Subscribe to our "Home Business Tips" newsletter and get real work at home jobs and opportunities delivered to your inbox. Simply enter your first name and email address below now to sign up free today…
We respect your privacy. Sign Up Now and Get Free eBook:
  Reader comments… "I just can't believe that you're giving your Dotcomology book away for free! I've been sorely disappointed in the past after paying $47 or $97 for an ebook from some guru promising to tell me all his secrets. Your book, on the other hand, has exceeded my expectations and I'd still be saying that if I'd paid $97! This is a fantastic resource for both newbies and experienced marketers for years to come." – Suzanne Morrison "Even though every newbie seems to be in too big of a hurry to do so, every newbie should be required to take the time to thoroughly read and absorb the information in Dotcomology. It would save them so much time and grief! Well-written by someone who has truly 'been there, done that' and emerged victoriously from the experience, thorough, and easy to understand, Dotcomology is the instruction manual that I wish had been available when I was new." – Sandi Moses Sign Up Now and Get Your FREE Dotcomology eBook Bonus Instantly:We respect your privacy.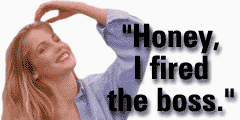 To receive more information about income opportunities sign up now :
Related eBooks